SKEMA Business School
Master in Management
The Grande Ecole: an international programme
Becoming the leaders of tomorrow.
A global, multi-campus programme: campuses in France (Sophia Antipolis, Lille, Paris), China, USA, Brazil and South Africa

Large variety of learning paths and a huge range of specialisations

Dual skill learning paths, both optional and leading to a qualification

International profile: courses taught in English from the first year

Opportunities for immersion in our campuses abroad (with optional professional experience) and/or an international university exchange

Experience between 12 and 24 months in a company

Innovative teaching and learning: six interdisciplinary teaching and learning projects and targeted, appropriate use of e-learning and m-learning teaching methods

Specific focus on management in the knowledge economy

An ability to generate sustainable performance
Master program
First year (« M1 » year)
Students joining the M1 programme at SKEMA will study Advanced Business Management. This is the first year of a two-year master programme whose main aim is to help you develop a deeper understanding of business management principles and provide you with an opportunity to develop your international experience.
All courses are taught in English and followed by students across all SKEMA campuses. Depending on your academic background and choice of M1 programme, you will study two prerequisite courses and one refresher course or elective.
The prerequisite courses will be taught as of the beginning of the autumn semester. You may choose one « Academy Profile » course that allows you to gain further experience in a chosen academic field.
During the autumn semester, you will also be asked to choose your spring 2020 track choice.
You may choose between:
An international campus,

The CFA Level 1 specialisation (Paris campus only)

Undertake a work experience year (césure) from January to December 2020 before returning to complete your M1 year in January 2021 with an academic semester on an international campus, CFA Level 1 or an exchange with one of our university exchange partners.
Students joining the School may also apply to the two-year apprenticeship track (Lille, Paris) or a two-year specialised track.
These programmes are taught on the Lille campus and are accessible via a selection process and subject to the number of places available: DEMOLA, CFA Level 1 (Paris campus only).
Academic track choice for spring semester
From September, students will be able to choose their academic track choice for the spring semester. Certain track choices may be subject to selection criteria. Students are given the opportunity to meet with their academic director to help them ensure that their final choice is coherent with their personal and professional goals.
Second year (« M2 » year)
Specialisation and getting into the world of work
During the second year, students acquire a specialisation. This final-year specialisation and internship are key to employability.
This year is entirely conducted in English as part of an MSc (for students enrolled in the specialised master's, teaching is also carried out in French).
Students may do this year on any of SKEMA's campuses worldwide (one semester or one year), in academic exchange (one semester or one year), as a double degree ("Master 2" with our partners) or in apprenticeship (all French campuses).
Scholarships
Since its creation, SKEMA Business School has been committed to an ambitious scholarship policy to attract the best students from around the world and to make equal opportunities a reality.
To this end, students admitted to the Master in Management are considered for a €3,000 merit-based scholarship awarded based on academic performance.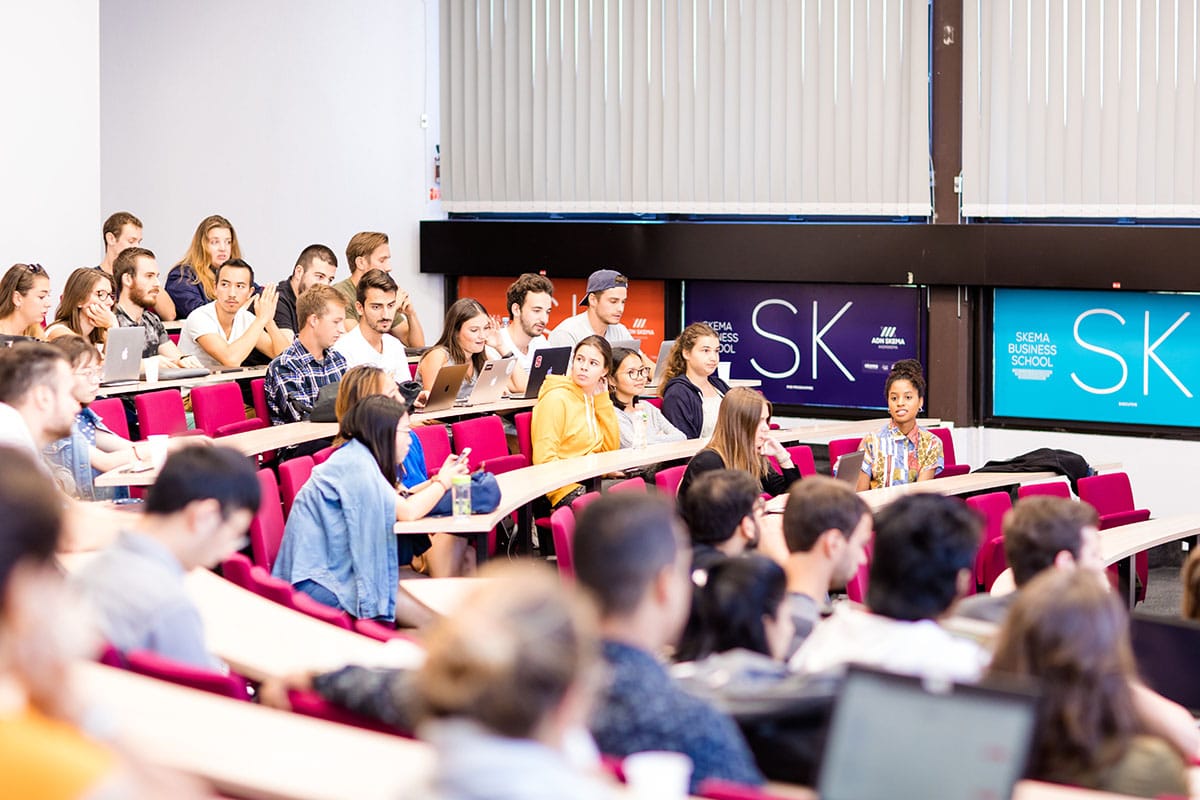 Career opportunities
98% of graduates of the Master in Management are employed 6 months after their graduation. 30% are employed by a company outside of France. The average gross annual salary is 45,500€.
The Master in Management prepares students for the following professions:
Sales – Business engineering : 18%
Marketing – Communication: 23%
Consulting, Audit, Finance, Accounting: 32%
Supply – Purchasing: 10%
Human Resources, Legal: 4%
Entrepreneurship: 3%
Main recruiting companies
Amazon
Bel
BNP Paribas
Capgemini
CHANEL
Danone
Deloitte
Ernst & Young
The Estée Lauder Companies
HSBC
KPMG
Louis Vuitton
LVMH
Nestlé
PwC
Société Générale
Ubisoft
Wavestone
Goldman Sachs
Questions regarding the MiM at SKEMA Business School
Is it still possible for MiM students to do an internship in France or elsewhere? If so, what could be the duration of the internship?
Yes the internship (optional) can be done either in France or worldwide. There is no restriction in terms of country.
At the end of Master 1, all students may undertake an internship (3 to 4 months and up to a 6-month internship at the end of Master 2).
Taking a gap year is also possible either in year 1 or year 2. It is an optional internship enabling students to identify their career plans and thus choose their final year specialisation.
Could the MiM be paired with an apprenticeship program?
Yes it can be paired. We do offer 2 options:
A 2-year apprenticeship track (available on Lille & Paris Campus). This programme is taught in French and is subject to the number of places available.
A 1-year apprenticeship track (available on Lille & Paris Campus) is also available in the year 2 of the master. This programme is also taught in French and is subject to the number of places available.

What are the possibilities for students to get scholarships or financial aid? 
We automatically look at each student's profile to examine whether we offer them an excellence scholarship worth 3000€.
What job employability opportunities are there currently in France, especially during this COVID-19 pandemic?
98% of our students have found employment 4 months after graduation. 60% of our graduates are working in France. Every student will be helped by our Talent & Careers department who will guide them to make their career ambitions become reality. It is a personalised support adapted to every student. A specific coaching programme is also offered to each student in our MiM program. Over 150 events are organised each year to facilitate the development of your professional project with the support of 2,500 companies and 6 digital partner platforms: they give you access to millions of offers but also to practice tests, business videos, CV templates etc.
News of SKEMA Business School