Audencia Business School
Master in Management
Audencia Business School is a top-ranked Grande École de Commerce recognised by the French Ministry of Education. Founded in 1900, Audencia Business School is today among the best European Business Schools in France. We provide you with high quality education and connect you to a network of companies and graduates that makes Audencia Business School one of the best Schools of management in France, regularly ranked on a global level by the Financial Times. The School is accredited by EQUIS, AACSB and AMBA and is part of the select number of Business Schools who possess this triple-crown proof of quality. If you wish to learn from a top-performing faculty in an international and innovative environment, enroll at Audencia and join us at one of the top-ranked, triple-accredited, most corporately connected Business Schools in Europe – and one of the best places to live in France.
To know more about Audencia, click on this video 
Lead with purpose
The Master in Management at Audencia Business School is one of France's elite Grande École programmes, recognised worldwide for its quality. As a student, you benefit from our reputation, network and forward-thinking training. You will develop multiple areas of expertise and become skillful in the fundamentals of international management. You will have diverse and immersive work experiences.
·         Select from one of 20 specialisations offered in English
·         Gain an impressive 4-18 months of in-company experience – you decide the duration
·         Enjoy Audencia's corporate connections and comprehensive career services 
First year
In this first year of study, you will gain a solid understanding of the foundational principles of international management and develop relevant skills in problem solving and innovation through core courses. You will also complete core courses through Gaïa, Audencia's School of Ecological and Social Transition.
Semester 1 – Advanced Management  
Our graduates are well-rounded professionals. In the first year of your studies, you'll gain comprehensive training in the fundamentals of international management – accounting, marketing, finance, statistics, logistics and project management. You'll also take advanced French as a foreign language and a sport course. All courses listed are available in English or French.
·         Marketing Strategies
·         Financial Analysis
·         Managerial Accounting
·         Strategy and Entrepreneurship
·         Business Simulation
·         Business Project
·         French as a Foreign Language
·         Sport
Semester 2 – Gaïa  
This semester, dedicated to the management of the ecological and social transition, will provide students with key skills to integrate societal and environmental issues into their future careers in finance, marketing, consulting, supply chain, HR… More and more companies, whatever their size and sector, are mobilizing to develop sustainable and responsible approaches across all their businesses.
Second year
Semester 1 – Specialisation
This second year of the programme represents one of the fundamental pillars of the Programme Grande Ecole: multi-disciplinary competencies. With 20 MSc programmes at Audencia, divided into 5 overarching themes, you will be able to build the programme that meets your needs and career aspirations.
Become a specialist in your area of interest and choose from the following MSc programmes:
Accounting & Finance
Explore various specialisations in Accounting & Finance, including the following MSc programmes:
Financial Analysis & Investment Management
Corporate Finance & Investment Banking
Financial Markets & Sustainable Investments
Sustainability Performance & Management Control
Data Management For Finance
Business & Society
Explore various specialisations in Business & Society, including the following MSc programmes:
Entrepreneurship & Innovation For Impact
Responsible Procurement And Supply Chain Management
Management For Sustainable Business
Marketing & Sales
Explore various specialisations in Marketing & Sales, including the following MSc programmes:
Brand Strategy & Product Management
Digital Marketing
Business Development & Growth Hacking
Data Science For Marketing
Management
Explore various specialisations in Management, including the following MSc programmes:
Public Policy & International Cooperation
Digital Business & Data Management
Human Resource Management & People Development
International Management & Business
Business Strategy & Consulting
Other Specialisations
Explore this broad theme of specialisations, including the following MSc programmes:
Food & Agribusiness Management
Sustainable Luxury
Cultural & Arts Management
Semester 2 – Internship
During this mandatory four- to six-month internship, you'll apply your new expertise within your areas of specialisation. This internship serves as a springboard for entry into professional life. It allows you to build connections with our network of corporate partners in France and abroad, as well as strengthen your international portfolio and employability.
You'll secure your internship with a company of your choice (with the assistance of our internal job board). The internship is guided by a faculty member so that you'll gain a hands-on practical understanding and an academic one – something that looks good on any résumé. Internships in France are paid; this will vary from country to country, depending on local laws.
You'll turn in a report on your experience following the required four- to six-month internship. You'll have the support of an academic mentor at Audencia throughout the writing and evaluation of your internship report.
To know more about us click on this video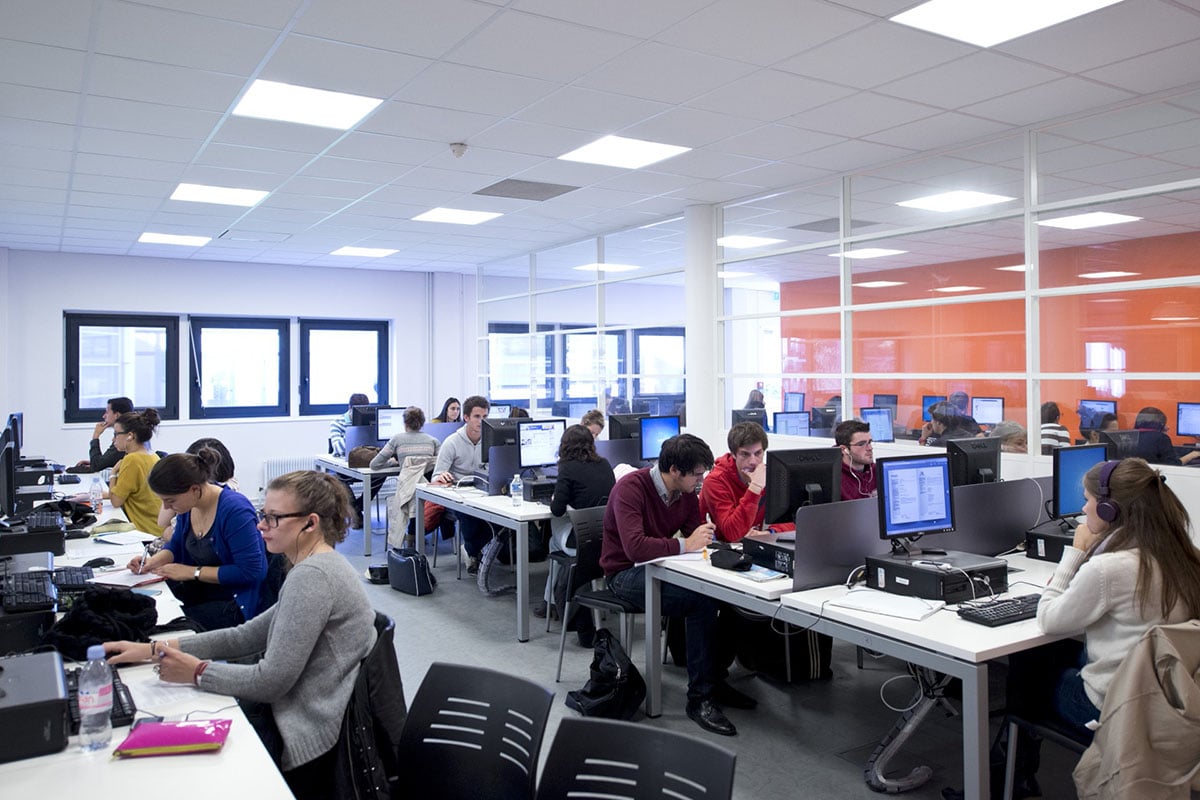 Career opportunities
91% of graduates of the Master in Management are employed 2 months after their graduation. 38% are employed by the company in which they did their internship.
The Master in Management prepares students for the following professions:
Audit: 13%
Bank and Finance: 9%
Consulting: 22%
Entrepreneurship: 4%
Management: 16%
Marketing: 22%
Purchasing and Logistics: 3%
Sales: 10%
Partner companies
Accenture
Bank of America
Carrefour
Google
Louis Vuitton
Microsoft
Nike
PepsiCo
PricewaterhouseCoopers (PwC)
Procter & Gamble
PSA Peugeot-Citroën
Sotheby's
Questions regarding the MiM at Audencia Business School
Is it still possible for MiM students to do an internship in France or elsewhere? If so, what should be the duration of the internship?
It is still possible to do internships in France and abroad. Businesses still have a need for quality management students to fill positions that they have in their companies and Covid has not changed that. However, many of these positions may have remote working elements to them in order to adapt to the current health crisis. Most internships are between 4 to 6 months.
Could the MiM be paired with an apprenticeship program?
Unfortunately, at Audencia, the apprenticeship option is not currently available to international students.
What are the possibilities for students to get scholarships or financial aid?  
Information on our scholarships can be found here: https://master.audencia.com/financement/
Scholarships
Here you can find all information about scholarships at Audencia
News of Audencia Business School