HEC Paris
Master in Management
Since its creation in 1881, the HEC Paris Master in Management has been the gateway for international students into the prestigious Grande Ecole program and a fantastic world of opportunities. The Grande Ecole program is designed for high potential students from all backgrounds with little to no professional experience, driven to become influential leaders in tomorrow's world.
Master program
The program is divided into a generalist phase and a specialisation phase. The first phase concentrates on business fundamentals while the second one focuses on acquiring expertise around the student's professional goals. The nature of the specialisation determines the Master's degree that the student will receive: Management, Management & Business Law, Management and Public Affairs etc.
The program consists of:
M1: mandatory foundation courses in general management, electives and a managerial behaviour seminar
Business Performance Management
Company Law
Corporate Finance
Decision and Data Modeling
Financial Accounting
Financial Economics
Financial Markets
Leading Organisations
Marketing
Methods of Cost Analysis
Operations & Supply Chain Management
Statistics
Strategy
Language courses (including a compulsory French course in the first semester of M1)
+ One of the following courses:
Financial Accounting 2
Corporate Tax Management
Ethics & Sustainability
Innovation & Entrepreneurship
Management of Information Systems
Modeling and Data Analysis with Excel
M2: a specialisation, an optional certificate and an in-depth research paper
Students have access to 7 groups of specialisations, which lead to 7 different Grande Ecole master's degrees:
Management
Business Law (requires French proficiency)
Public Affairs
Sustainability and Social Innovation
Media, Arts and Creation (requires French proficiency)
Cognitive Science (requires French proficiency)
Journalism (requires French proficiency)
Certificates
Sponsored by companies, HEC Certificates consist of interdisciplinary courses corresponding to approximately 100 contact hours, as well as business projects and other types of field work. Experts from the professional world are deeply involved in the conception and working of the program, providing HEC Paris students with a true reflection of the business world.
Optional gap year
Between M1 and M2, students have the opportunity to take a gap year. Choosing to take a gap year can make a real difference in your curriculum at HEC Paris.
Though optional, this experience is an opportunity to enrich your résumé with a solid professional experience. By discovering the reality of the business world in a specific field of your choice (marketing, finance, consultancy, communication etc.), you will be able to sharpen your career goals.
Grande Ecole Master in Management students have the opportunity to complete one year of professional project and/or personal (optional) project during their studies at HEC Paris. These can take the form of a year dedicated to professional projects (internships, professional experience) or a year dedicated to personal projects (volunteering, business creation, etc.).
They can choose to dedicate:
One year to a professional or a personal project
One year to a professional project then one year to a personal project
This real life experience will also help you to widen your perspective, to ensure that you are on the right path to achieve your objectives. You will then pursue your course at HEC Paris with a more accurate vision and a renewed determination.
Not to mention that this gap year is the perfect way to improve your French and to soak up even more of the French culture.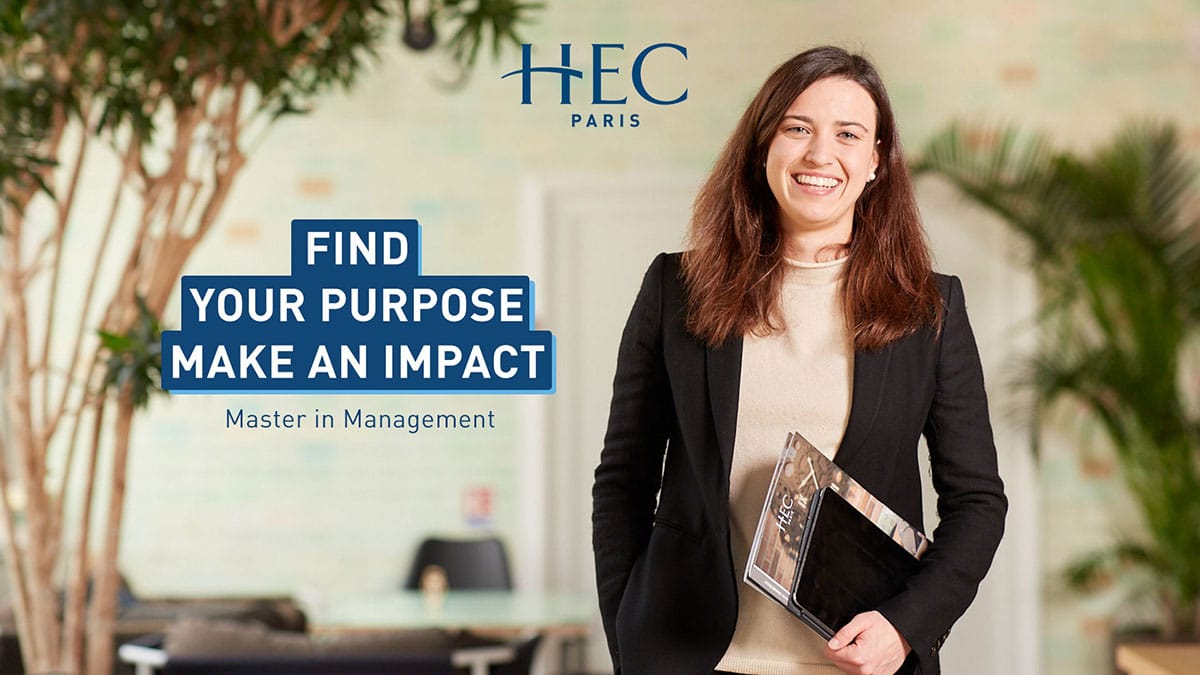 Career opportunities
96% of graduates of the Master in Management are employed within 3 months after their graduation and 40% are employed by a company outside of their home country. The average salary of recent graduates from HEC Paris is 63,000€ and 98,000€ after 3 years. 10% of the HEC Paris graduates launched their own company.
The Master in Management prepares students to work in the following sectors:
Consulting: 37%
Financial services: 28%
Technology: 11%
Consumers goods: 7%
Industrials: 4%
Luxury: 4%
Others: 9%
Partner companies
Accenture
T. Kearney
Accuracy
Air Liquide
Bain & Company
Barclays
BearingPoint
BNP Paribas
Deloitte
Deutsche Bank
Eurogroup Consulting
EY Goldman Sachs
Google
P. Morgan
Kering
KPMG
L'Oréal
LVMH
McKinsey & Company
Morgan Stanley
Nomura
Procter & Gamble
Rocket Internet
Roland Berger
Rothschild
Schlumberger Business Consulting
Société Générale
The Boston Consulting Group
Unibail Rodamco
Unilever
Questions regarding the MiM at HEC Paris
Is it still possible for MiM students to do an internship in France or elsewhere? If so, what could be the duration of the internship?
Yes, it is possible for MiM students to do an internship in France and most do choose to remain in Europe during their gap year and after graduation.
During the optional gap year, internships usually last 6 months. As for internships after graduation, it completely depends on the industry. In Finance for example, 97% of HEC students converted their internships to full-time job offers. 
Could the MiM be paired with an apprenticeship program?
We offer an optional gap year between the first and second year of the program. Both the M1 and M2 are full-time so it is not possible to do an internship on the side. 
What are the possibilities for students to get scholarships or financial aid? 
All admitted students are automatically considered for the HEC Foundation Scholarship, which ranges from 3,000€ to 15,000€. Other scholarship and financial aid opportunities can be found on our website.
What job employability opportunities are there currently in France, especially during this COVID-19 pandemic?
The career support at HEC is exceptional and highly effective, regardless of whether it is provided online or in-person. There are countless big career events and the people from career development are always available to offer personal advice and guidance. Consequently, 99% of graduates are employed within 3 months and 8% launched their own company.