ESCP Business School
Master in Management
The Master in Management, ranked 7th worldwide by the Financial Times, is designed to develop the skills needed to analyse complex strategic and operational management issues within a global context. This two-year, full-time general management Master programme provides the opportunity to study in up to four countries, with options ranging from ESCP's own six European campuses to more than 140 partners worldwide.
Master in Management graduates leave with a minimum of 36 weeks of professional experience. This ensures that you finish the programme with the invaluable practical experience top recruiters are looking for.
Master program
The Master in Management programme consists of four semesters with a total of 120 ECTS credits. These semesters can be completed at our European campuses (Berlin, London, Madrid, Paris, Turin and Warsaw) or at one of our over 140 partner universities worldwide.
In order to help you achieve your career aspirations, ESCP created a flexible study track. This allows you to customise the programme over two to four years, with the possibility of taking gap years.
Innovative teaching – based on case studies, lectures, group projects and instruction by executives from ESCP's corporate partners – ensures the link between in-class theory and the reality of the business world.
First year – in Berlin, London, Madrid, Paris or Turin
During your first year of Master's, you will take a deep dive into the fundamentals of management*, and start to build your career development plan by choosing:
Study location
Languages courses
A specialisation
*Core courses of intercultural management:
Corporate Finance
Business Law
Financial Reporting IFRS
Human Resource Management
Data-Driven Marketing
Management Control
Organisation and Management
Strategy
Sustainability
Second year – in Berlin, London, Madrid, Paris, Warsaw or at partners worldwide
During your second year of Master's, you will carry on with your career development plan by choosing:
Up to two specialisations (1 per semester)
Electives amongst a selection of 140
Study location, including at partner institutions worldwide
There are many specialisations to choose from amongst these categories:
Business Development
Consulting
Cross disciplinary
Digital
Entrepreneurship
Finance / Accounting / Control
Law & Economics
Marketing
Specific industrial sector
Sustainability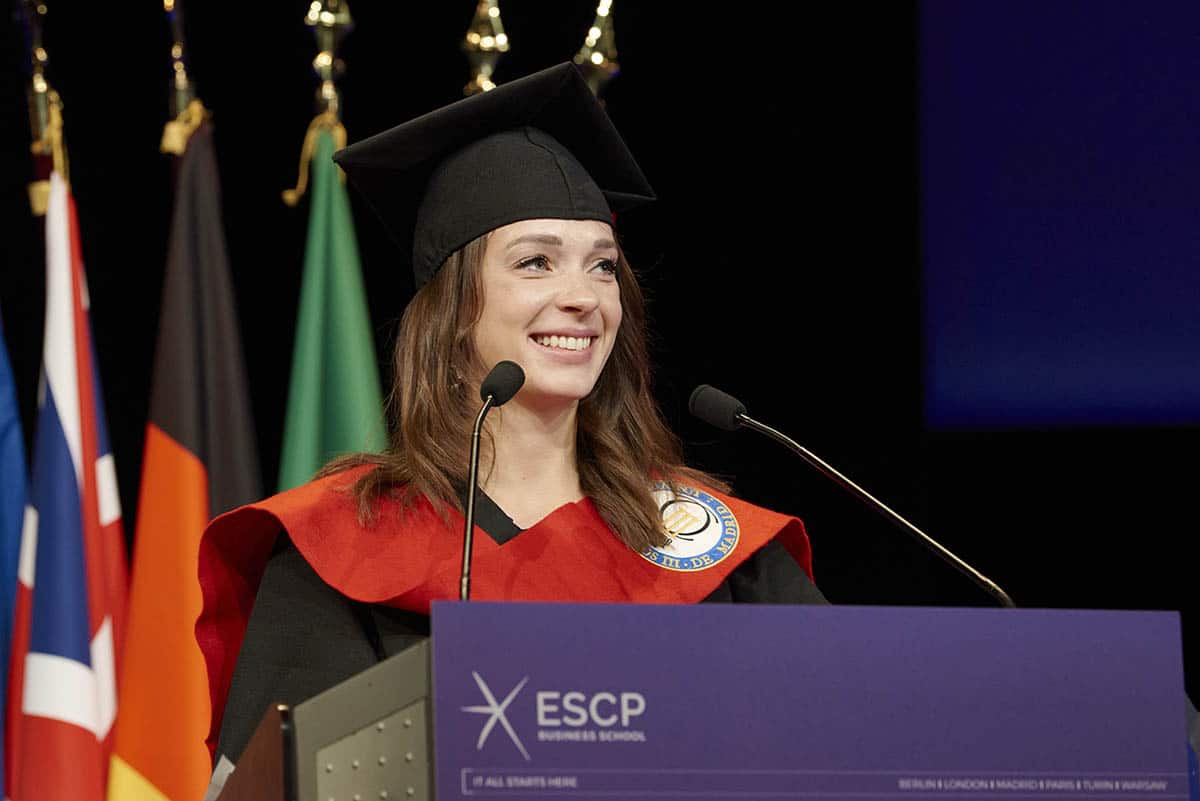 Career opportunities
99% of Master in Management graduates found a job within 3 months of graduation. 67% are employed before graduation. Here are some examples:
The most recent graduating class is currently working in these job functions:
Project Management: 6%
Finance: 15%
Consulting: 25%
Marketing: 8%
Business Development: 11%
Partner companies
As ESCP Master in Management graduates acquire two to three specialisations in addition to the fundamentals of how companies operate and thrive, they have excellent job placement opportunities: 97% are employed within 3 months of graduation.
Here is a selection of the companies that they join:
Accenture
Amazon
AT Kearney
AXA
Axel Springer
Bain & Company
Banco Santander
BearingPoint
Bloomberg
BNP Paribas
Bombardier
BCG
CHANEL
Deloitte
Deutsche Bank
ON
Eaton Corporation
EY
Ferrero
General Electric
Google
Johnson & Johnson
KPMG
L'Oréal
Lavazza
Lazard
Luxottica
LVMH
McKinsey & Company
Michelin
Microsoft
Mondelez
Natixis
Nestlé
Nomura
Oracle
PwC
Procter & Gamble
Roland Berger
Royal Bank of Scotland
SAP
Société Générale
Telefonica
Thales
Total
Ubisoft
UBS
Unilever
Vodafone
Questions regarding the MiM program at ESCP Business School
Is it still possible for MiM students to do an internship in France or elsewhere? If so, what could be the duration of the internship?
Yes, students are expected to complete between 20 and 36 weeks of work experience to graduate so there are plenty of opportunities to do an internship in France, the EU or elsewhere.
Each job or internship must have a minimum of 8 weeks. Previous experience can be taken into consideration for up to 16 weeks maximum. You need to gain a minimum of 20 weeks of professional experience during your Master studies. Local career service teams will help you find internships. 
Located on each of the six ESCP campuses, the Careers Service provides students with the advice, data and tools to connect you to companies.
Internship offers: 20,000 / year
Job opportunities: 30,000 / year
Companies on campus: 130 / year
Active alumni: 60,000
Countries: 150
Could the MiM be paired with an apprenticeship program?
Yes, students from the European Union and under 30 are eligible. Employment must be in a company governed under French law; therefore students must have a sound knowledge of French. 2 formats are possible: 18 months and 14 months.
What are the possibilities for students to get scholarships or financial aid?  
Non-European students are eligible for Merit-based scholarships. They are awarded upon admission to the Master in Management. Merit-based scholarships vary from 25% to 100% of the first year tuition fees. Merit-based scholarships are only awarded for the first year of studies.  ESCP scholarships based on financial need may be awarded to European students. European students who are eligible for CROUS* scholarships may also be eligible for an ESCP Europe scholarship.
What job employability opportunities are there currently in France, especially during this COVID-19 pandemic?
Up until now, we have had excellent employment rates with 99% of students employed within 3 months of graduation.
It is a bit early to say what impact Covid may have had but students can be assured of the support from the School:
Career workshops and individual coaching to achieve professional objectives
Company presentations, seminars, conferences, roundtables and interviews with recruiters
On-campus or virtual generalist and industry-specific job fairs
Bootcamps on Consulting, Banking, Tech and Marketing led by ESCP Alumni on how to be recruited by the leading companies in these sectors
Personality and logic tests etc.
News of ESCP Business School